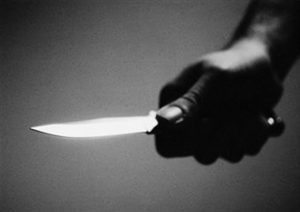 PHILIPSBURG, St. Maarten – The Detective Department is presently investigating a case of ill-treatment with a weapon which took place on Sunday June 17 th at approximately 01.00 p.m. at a bar located on the
Sucker garden road.
On the scene the investigating officers encountered female whose clothing
was covered with blood. The officers also noticed evidence of blood on the floor of the establishment.
This female stated that she works at the bar and was busy doing her work when a man unknown to her walked into the establishment and started causing problems.
The situation got out of hand at which point it turned into a fight between the individuals.
The female also stated that she was struck several times in the face by this man. She then took a knife and defended herself stabbing the victim in his left hand. After stabbing the victim she ran out of the bar. The victim had reported to the Sint Maarten medical Center for treatment.
Both parties were arrested by the investigating officers due to the fact that the situation is still unclear to what exactly took place. Both suspects received medical treatment and were put into preventive custody for further investigation.