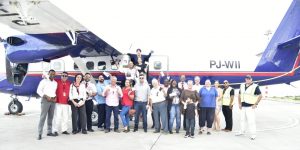 ZION'S HILL, Saba – Juancho E. Yrausquin Airport located in Zion's Hill, Saba, has restarted operations after the completion of almost one month of resurfacing the runway and renovation to the terminal building. The airport, which is now updated with a concrete runway, new markings, taxiway and apron, had posed some challenges to aircrafts landing in Saba, due to a rapid state of deterioration. The runway rehabilitation project, which was financed by the Ministry of Transport and Water and coordinated by Ton Fransen of the Ministry of Civil Aviation Department, was done by contractors Den Ouden, Windward Roads and Saba Roads.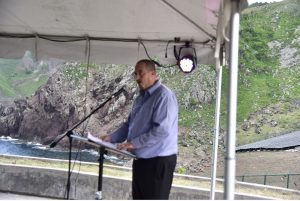 The official opening of the airport was realized Monday afternoon at around 3 pm with an inaugural flight of Winair, who transported several persons, including St. Maarten's Minister of TEATT, the Honorable Stuart Johnson, amongst other invited guests to the island for the inauguration ceremony.
On hand to welcome the flight back to Saba was the Com
missioner with the responsibility for Harbor and Airport Affairs, Bruce Zagers.
"Making the decision to close the airport for a month especially during the peak of the hurricane season was bold and came with risks. However, it was either that or the certainty of the heavy economic impact at a different time of year during the tourism period. Luckily, so far we have been spared from the wrath  of series hurricanes or storms," Commissioner Zagers told the gathering, adding that there were moments that weather seemed to pose a risk that could potentially cause delays, but work was able to continue and the contractor was still able to deliver the project on time.
According to him, because the airport was closed for a month, they received compensation budget, which should be used to offset the economic impact of having no flights. It is for this reason; the government was able to negotiate with the ferry operators to establish a 20 dollar one way rate between Saba and St. Maarten to allow the connection to continue at a reasonable fee.
"With these very cheap rates, we saw atleast three thousand passengers moving between Saba and St. Maarten, which is an increase if I compare with previous years during the same period with airlines and ferries included," he said.