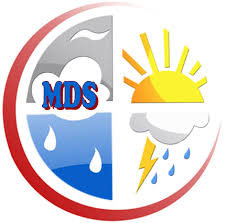 This afternoon through Friday midday: Partly cloudy and hazy with a local shower possible.
Forecast High: 31°C / 88°F                 Forecast Low: 26°C / 79°F
Sunset Today: 6:47 P.M.                      Sunrise Tomorrow: 5:36 A.M.
SURFACE WINDS:
This afternoon through Friday midday: East to east-southeasterly with a gentle to moderate breeze of 08 to 16 miles per hour.
SYNOPSIS:
A dry and stable atmosphere with Saharan dust will continue to restrict precipitation across the region. However, a slight increase of low to mid-level moisture may trigger a local shower towards the end of the forecast period.
Meanwhile, marine conditions are expected to remain slight to moderate with waves peaking near 5 feet before slightly increasing on Friday. 
STATE OF THE SEA: Slight to Moderate         WAVES/SWELLS: 4 to 6 feet
SPECIAL FEATURE: None.
OUTLOOK through Saturday midday: Partly cloudy and breezy, with brief isolated showers possible.
FORECASTER: Gordon