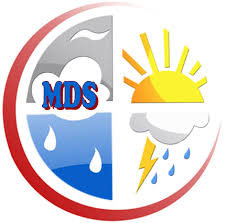 Today: Fair to partly cloudy and hazy with a brief passing shower possible. Tonight through Wednesday morning: Partly cloudy and breezy with isolated showers.  
Forecast High:
 31°C / 88°F                
Forecast Low:
 25°C / 77°F  
Sunset Today:
 6:46 P.M.                      
Sunrise Tomorrow:
 5:36 A.M.  
SURFACE WINDS: 
Today through Wednesday morning: Easterly to southeasterly with a gentle to moderate breeze of 08 to 16 miles per hour.
SYNOPSIS:

The dominant Atlantic high pressure system will maintain gentle southeasterly winds across the region. Additionally, a relatively dry and stable atmosphere will continue to restrict precipitation today. However, a weak tropical wave will move over the Eastern Caribbean islands tonight into tomorrow. Though the most active weather is expected to remain south of St Maarten, there is still an increased chance of showers over the forecast area. Marine conditions are expected to remain slight to moderate with waves peaking near 5 feet during the next few days.
STATE OF THE SEA:
 Slight to Moderate         
WAVES/SWELLS:
 4 to 5 feet  
SPECIAL FEATURE:
 None.  
OUTLOOK through Thursday morning:
 Partly cloudy with isolated showers possible.  
FORECASTER:
 Pierre