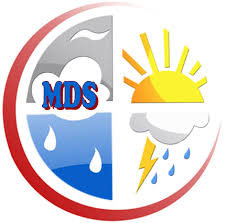 Today through Friday morning: Cloudy, hazy and breezy. 
Forecast High: 31°C / 88°F                 Forecast Low: 27°C / 81°F
Sunset Today: 6:50 P.M.                      Sunrise Tomorrow: 5:38 A.M.
SURFACE WINDS:
Today through Friday morning: Southeast to east with a gentle to moderate breeze of 10 to 18 miles per hour.
SYNOPSIS:
The Atlantic high pressure ridge is the dominant feature producing a southeast to easterly wind flow. Dry and stable air will continue to prevail across the local area. Meanwhile, high level clouds will maintain cloudy skies.
Winds will gradually increase during the next few days. As a result, sea level will rise. For the next 24 hours waves will peak near 6 feet.
STATE OF THE SEA: Slight to moderate        WAVES/SWELLS: 4 to 6 feet
SPECIAL FEATURE: None.
OUTLOOK through Saturday morning: Partly cloudy to cloudy, hazy and breezy with a few isolated showers possible.
FORECASTER: Gordon