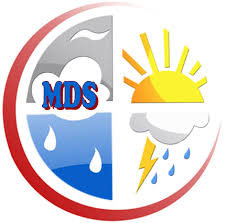 This afternoon through Wednesday midday: Mainly fair, hazy and breezy.
Forecast High: 31°C / 88°F                 Forecast Low: 27°C / 81°F
Sunset Today: 6:48 P.M.                      Sunrise Tomorrow: 5:37 A.M.
SURFACE WINDS: This afternoon through Wednesday midday: Easterly to east southeasterly with a gentle to fresh breeze of 11 to 19 miles per hour.
SYNOPSIS: A relatively stable atmosphere, filled with Saharan dust will continue to restrict precipitation across the region. Meanwhile, the Atlantic high-pressure ridge will maintain brisk easterly winds.
Seas will peak near 7 feet before subsiding on Thursday night. Small craft operators and sea-bathers should exercise caution. 
STATE OF THE SEA: Moderate        WAVES/SWELLS: 5 to 7 feet
SPECIAL FEATURE: None.
OUTLOOK through Thursday midday: Fair to partly cloudy, hazy and breezy.
FORECASTER: Albert