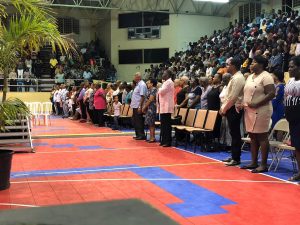 SUCKER GARDEN, St. Maarten (August 16, 2018) –It was an evening of praise and worship with powerful performances from a multi denominational, talented cast of actors and singers as Better Opportunity for Talent (BOFT)pulled off its first major production last Saturday night – the biblical love drama, 'The Rise and Fall of King Solomon'.
The almost packed L.B. Scott Sports Auditorium was transformed into a theatre, with a set that can likely put BOFT in contention for an award. The set, which was designedby architectural scientist, Randolph 'Scottie' Scott, sported richly appointed furniture from Discount Furniture Store and red and gold décor done by Esther Davis-Roach and her team. It transported the audience back in time to a lavish palace setting of ancient Israel, decked out with live foliage from Julio's Garden on Marimba Road of a romantic garden.
Benjamin Bell and his band, 'God's Chosen', set the stage for the drama, ending with an electrifying
performance of Tamela Mann's 'Take Me to the King' sung by Bell and Sharnella Romney-James. They were
followed by the Christian Fellowship Church Total Restoration Dance Ministry, led by Catharina Carbon,with
several magnificent pieces featuring dancers as young as six years old.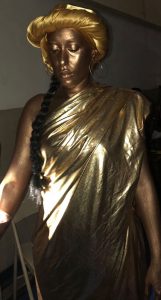 With an off-stage narration by Reverend Lloyd Brissett, the play opened with the children of the Cole Bay Methodist Church playing a young Solomon (Keggon Russell) asking God for guidance while being plagued by the sins of pride (Angel Hughes), greed (Zenia Cannegieter), and laziness (Sapphire Hassell). A very talented
Shaquan Young masterfully dramatized Solomon's conscience, while the powerful singing of Christina Roach made way for the grand entrance of Solomon as a grown man and king.
Despite the serious undertones of the play, the performances of Gracier Young Brown and Esther Narcisco Williams had the audience in stitches. Brown shone in her role of one of Solomon's lovers who flaunted their affair before Pharaoh's daughter, played by Davis-Roach. Browne's gold, figure-hugging costume, designed by Sheila Sorton, wowed the audience and transformed her into a seductress who had Solomon wrapped around her finger.
Narcisco, too, perfectly dramatized the harlot who wanted Solomon to divide a baby that belonged to another harlot, played by Ammique Bryan. Narcisco's screams to "Kill him dead, dead, dead" while being bodily removed from the stage, had the audience rolling with laughter and will be indelibly etched in the memory of many.
Veteran actor Earl Duzong looked the role of king that night as he sat on his throne of gold while being
pampered by his many concubines and wives played by Orris Jack, Berthille Laveist, Everett Richardson,
Dennyse Duzon, Martha Lammar, Joyce Bell, and Esther Peterson. But there was no doubt that singer Karen
Cadogan took royalty to a whole new level that night as she perfectly executed the role of the Queen of Sheba. Her delivery and grace sparkled as much as her costumes and crown, captivating the audience and King Solomon alike.
The surprised comic relief was provided by Reverend Tyrone Hunkins, who doubled as musician and
thoroughly entertained the audience.
The play, which was directed by veteran actress, Lady Ann Meyers, was last presented in April by Class 2 of the Cole Bay Methodist Church. It was first staged some 10 years ago with the late cultural icon Mr. Camille Baly as King Solomon and ever since then there were calls for a repeat performance. Due to its successful staging at church, BOFT'sproducer, Mr. Milton 'Bobby' Ottley, decided to take the play to the big stage.
The award-winning Lady Meyers, who also designed some of the costumes made by Davis, researched the story of King Solomon and added her creative flavor to make the story stage-worthy. She said it was no easy feat taking the story from several books of the bible and compressing it into a factual retelling of one of the wisest kings who reigned before the birth of Christ. She nonetheless masterfully chronicled the story of Solomon from childhood through his adult life to the point when he began worshipping other gods, which caused him to fall out favor with his God.
Speaking after the production, Ottley said he felt satisfied that the audience received a good show and got the intended message that no man is perfect and that all have sinned.
"None of us is perfect. We all are going to fall like Solomon, but I believe in God and I believe in doing His
work," Ottley had stated in an earlier interview. For him, the production was all about showcasing the young
talent of the island and he was very appreciative of those that helped to make the show a success. He took his hat off to Scott, Fleming Carpet of French Quarter, Discount Furniture, Omar Building Block, A & A Supplies, and O and Eric Constructionfor contributing to the creation of a magnificent set, as well as CK's Consultancy for assistance in the area of public relations and the sound effect technician Jobert Gabriela who had no easy task that night. Lucinda Audin and Funtopia, too, lent support by painting the Golden Pagan Goddess (played by Mercedes Brown) that authenticated the era of the drama.
According to Ottley, his biggest support came from the companies that bought tickets for their employees to
attend, such as Windward Islands Bank, NAGICO Insurances, and GEBE. "This truly tells me that the corporate community supports our local talent. I would love for others to follow in their footsteps," stated Ottley. In the end, he felt that the night provided clean, wholesome entertainment for the entire family. He wants to especially thank the St. Maarten community for coming out to support the local talent.