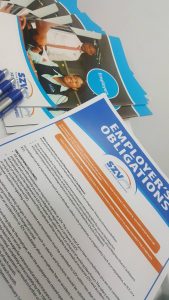 PHILIPSBURG, Sint Maarten  —  Social & Health Insurances SZV is actively reminding companies of their obligations in accordance to the Federal Ordinance for Sickness and
Accident Insurance. One of those obligations being the monthly declaration and payment of ZV and OV premiums, due no later than the 15 th of each month. Since recent, SZV has intensified its controls in conjunction with increasing awareness amongst employers of the obligations and procedures. Employers are encouraged to make use of the 24/7 online declaration and payment option available via the Employer Portal.
However, companies can still submit their declarations in person at the Employer desk and are reminded that cash payments are no longer accepted. Not complying to the obligation of declaring and paying on time can result in the levying of assessments.
The organization is proud to have been able to expand its services over the years, within the boundaries
of the stipulated laws. The dedicated Employer Desk of SZV and online services offer employers in need
of assistance with additional tools and information to meet their obligations. SZV has been promoting its
online services for over a year now, companies can submit their declarations online, on the website of SZV www.szv.sx via the Online Employer Portal. Online payment is encouraged by SZV; both of these options reduce the need to visit SZV offices and allow companies to be more efficient with their time.
Employers are being offered the ease of online contact and online service with the result of reduced
waiting times and more importantly efficient and well documented processing and responses.
It is mandatory by law for all companies with one or more employees executing labor to register they company and their employees at SZV. You are considered an employer by SZV in the following cases: you
are established on Sint Maarten, and you have employees executing labor for you on Sint Maarten, you are established on Sint Maarten, and your employees are executing labor for you outside of Sint Maarten (Dutch Caribbean). A foreign company can also be categorized as an employer on Sint Maarten (Dutch Caribbean).
An employer can be a natural person (such as an individual, called a sole proprietor), or a legal entity (such as a corporation, an N.V. or a B.V.) An overview of the general Employer obligations is available on SZV's website www.szv.sx.
More information about Employer obligations, declaration and payment of ZV and OV premiums can be found on the website www.szv.sx and at the Employer service desk, which is located in Building 1, Level1. Contacting SZV is possible via the website, info@szv.sx, Facebook or by calling 546-6782.