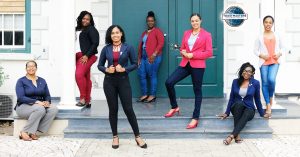 PHILIPSBURG, St. Maarten –
On the 1st July 2018, a new Executive Board was installed serving the SXM Achievers Toastmasters Club 2018/2019. From right Sergeant at Arms Nzinga Lake, Secretary Shanice Powell CC, President Sharine Duncan CC, VP Education Vanincia Walters, IPP/VP Public Relations Ravina Claudius CC, VP Membership Carleen Griffith CC and Treasurer Jeanina Dupersoy ACB.
"For the upcoming 2018/2019 Toastmasters Term, the SXM Achievers Toastmasters Club will not simply walk the path, we will blaze the trail and set the pace for our peers. SXM Achievers although 11 years old displays some of the most dynamic, energetic and creative Toastmasters Members. We are strategic, we are ambitious and we are indeed trailblazers. By joining our Toastmasters club, your potential to learn and grow is limitless and the possibilities are very positive" stated the Toastmasters Club in a press statement.
Interested in finding out more? Come to our first meeting for the term this Thursday,
July 12th
at 7.30 pm at the Asha Stevens Hill Side Christian School on the 2nd Floor Classroom near the Faculty Lounge.