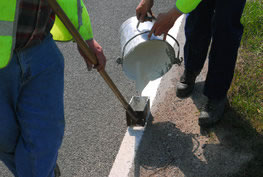 GREAT BAY, St. Maarten – Ministry of Public Housing, Environment, Spatial Development and Infrastructure (Ministry VROMI), announces that on Saturday, May 12, the patching of a number of streets will be carried out.
These maintenance works will start at 7.00AM on Saturday.
The works will be carried out on Cannegieter Street in the vicinity of Green House, Hong Kong, NV GEBE and the UTS building.
Additional road patching works will take place on Codville Webster Street; the road between the entrance to Divi Hotel to the tennis court after the entrance to Belair Hotel; and Arch road from the Church to the first bend in the road near the St. Maarten Zoo.
Motorists are advised to be observant of workmen and road patching machinery/materials, and therefore to drive with caution through the aforementioned areas with respect to the safety of the workmen.
Ministry VROMI apologizes for any inconveniences this may cause.