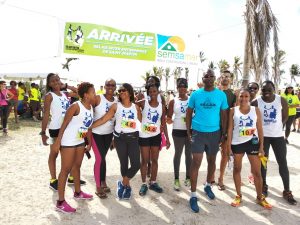 MARIGOT, Saint Martin –
This Sunday, June 10, 2018, 18 teams took the start of the relay Inter Entreprises of Saint Martin, and 18 teams crossed the finish line! Congratulations to the 180 riders who participated in the 12th edition of this race, especially the less experienced riders who held to the finish line at Orient Bay.
For the 4th year, the highest step of the podium goes to Intergeneration, followed by Team Region Guadeloupe and Dream of Trail Arawak.
Organized by the Avenir Sportif Club of Saint Martin and SEMSAMAR, the RIE SXM 2018 ended on a note of goodbye and the teams present have a
lready made an appointment next year for a little suffering, sweat but also good mood!
Thanks to the sponsors who helped organize this event: SEMSAMAR, SUPER U, GETELEC, and CCISM.
Photo credits: Debi's sport Pics Final