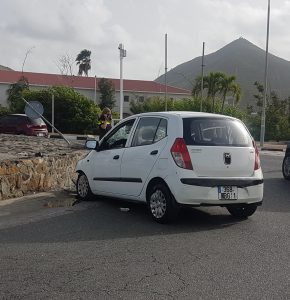 PHILIPSBURG, St. Maarten – Information reaching our News Department indicates that an accident took place in the vicinity of the Salk Pickers round-a-bout took place on August 6th.
The incident occurred at around 7:45 am.
According to an eyewitness, the driver of the vehicle apparently loses control of the vehicle, which at the time, was traveling at a high rate of speed. Some persons in the immediate surroundings of the accident alluded to the fact that the brake might have malfunctioned.
At the time of the mishap, the driver of the small white Hyundai car with French license plate appeared to be unconscious. Meanwhile, the Police Spokesman, Chief Inspector Ricardo Henson confirmed that the victim of the car accident died as a result of injuries he sustained.
The Police Traffic department is investigating.