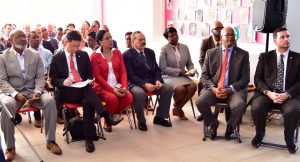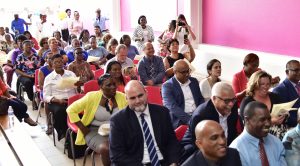 CAY HILL, Sint Maarten – Seventy eight students who successful completed a six months training programme in the field construction at the National Institute for Professional Advancement (NIPA) are now better prepared and equipped for the work environment.
In the presence of family and friends, the students graduated during a ceremony Thursday afternoon held at the institution in Cay hill, at which time, they received their certificates. During the programme, students did the theoretical as well as practical in three (3) categories. Those were carpentry, electrical and property maintenance.
On hand for the exciting moment were among others, the Prime Minister of Sint Maarten, the Honorable Leona Romeo-Marlin, the Minister in charge of VROMI, the Honorable Miklos Giterson, Minister with the responsibility for Health, Labor and Social Affairs, the Honorable Emil Lee as well as members of the board of directors of NIPA.
In delivering his address at the graduation ceremony, director of NIPA Sergio Blomont reminded the
graduating students that they are now fully qualified and skilled labourers.
The training programme was initiated by the Ministry of VSA in collaboration with the various ministries and in particular, the ministry of education.
"It's great to see that today; the fruits of everybody's labor is coming to bear," the Minister of VSA Emil Lee said, while acknowledging the success of the programme.
The Minister also congratulated the students on the achievements
Listen below to the entire graduation ceremony