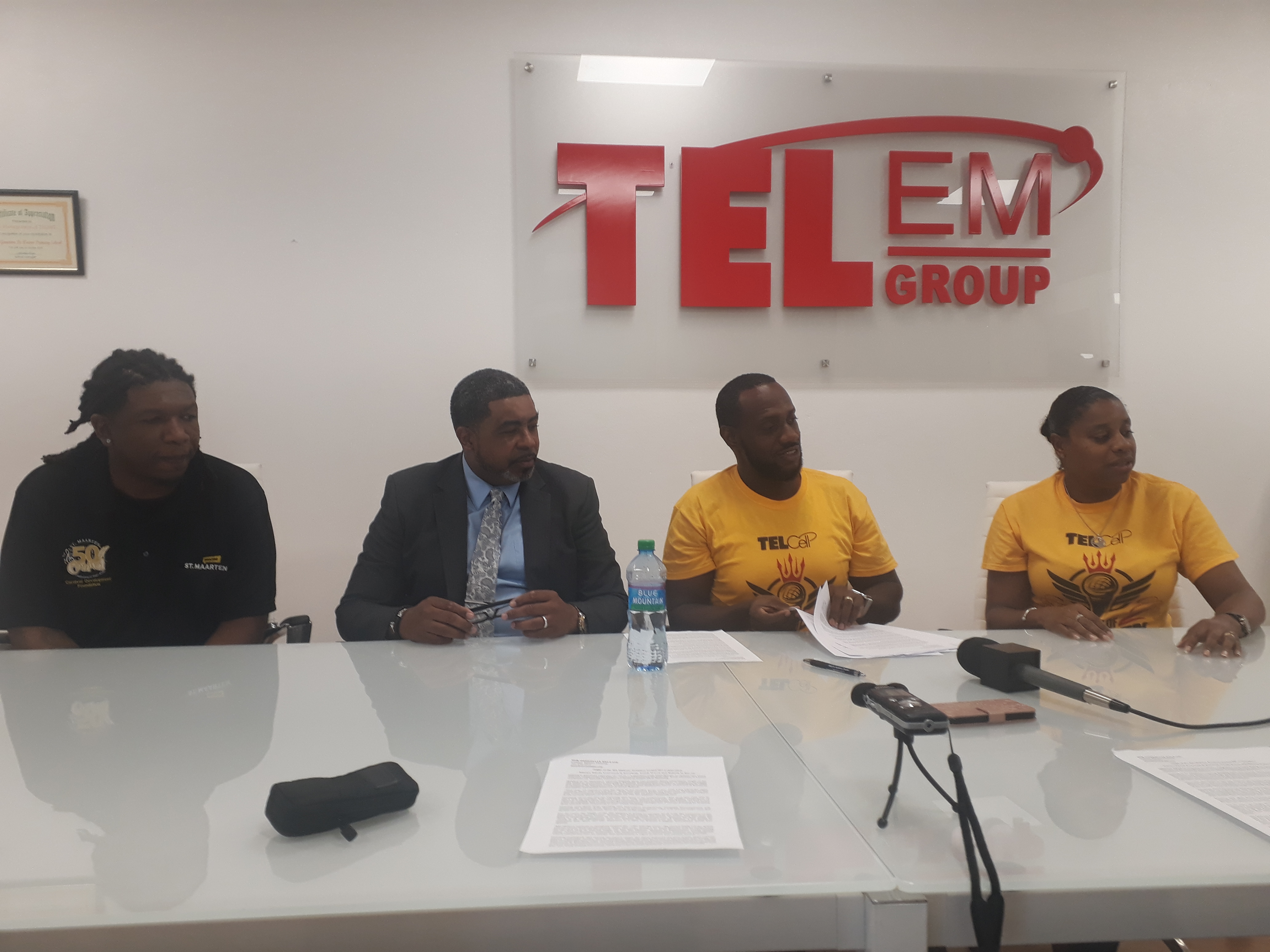 MIDDLE REGION, Sint Maarten — Legendary zouk band Kassav to feature this year's TelCell's 'Night of the Hit Makers', announced promoter Bertaux 'Mr. Rude' Fleming at a press conference on Thursday (January 17, 2019) at TelEm Main Building.
Dubbed as St. Maarten's carnival flagship show and premier dance experience, 'Night of the Hit Makers', promoted by Fleming's Xtratight Entertainment company, is slated to be bigger and better than previous years with the line-up including Kassav, who is celebrating 40 years in existence; St. Maarten's own Youth Waves; Soca Sensations Edwin Yearwood & Krosfyah and highly anticipated band out of Aruba Buleria.
"This year, we intend to take the show to yet another level, every  year I am asked the same question 'How will you top this?', Well, that question keeps me motivated, being part of this year's 50th Carnival Celebration is an honour and we plan to make the carnival magic happen at the seventh edition of TelCell Night Of The Hit Makers," Fleming said.
Speaking about the line-up, Fleming said there is no compromise. "My goal this year was to put a line up together that will cater to a wide audience and suit the golden celebration of carnival, leading a show into J'ouvert morning is always a challenge and I knew we had to put a line up together that would make the patrons dance straight into J'ouvert morning by keeping them excited from beginning to end" stated Fleming
Fleming said apart from exciting and innovative promotions, Xtratight Entertainment will maintain the format of the dance floor as in previous shows. "We will always make sure that people can utilise the dance floor for most of the night."
For 50 years, the Night of the Hit Makers is going to another level with the inclusion of the legendary zouk band Kassav. Kassav has been touring the world for years, and this year the band is celebrating 40 years in existence, hosting their world tour. Known for their mega hit "Zouk la sé sèl médikaman nou ni", Kassav has released over 20 albums. I am proud to announce that April 26th (St. Maarten) is a date on Kassav's highly anticipated world tour agenda.
"Hit Makers formula is designed around the "vibe and the artist" the crowd feeds off the artists and the artists feed off the crowd. Also, this year, Aruba's #1 band Buleria will be performing for the first time at TelCell Night Of The Hit Makers. Buleria in Papiamento would simply mean: Alegria! Rumba! Ambiente! The band possesses a tremendous synergy or brotherhood, which transforms into an energy that guarantees a vigor to move any crowd, young or old.
Fleming explained, that during the past 6 years, the show featured the best artists from various places, especially Aruba, and St. Maarten. Fleming said he listens to the people and brings the type of artist that they want. Another group the fans have been screaming out loud for is Edwin Yearwood & Krosfyah who are also celebrating their 30th year mile stone this year. Krosfyah is one of the most innovative soca bands to come out of Barbados with some of the world's biggest soca hits, who bring nothing but energy, ensuring to get revelers geared up towards Jouvert morning,
"This will be the ultimate dance party and the people can expect a great production as usual. We will be doing exactly what we say we are going to do as we do not compromise. Our production, from start to end, will be programmed to make sure that the people are entertained and geared up to dance straight into J'ouvert morning."
He thanked the Hit Makers fans for their continued support as well as his Xtratight team for the success of the show each year.
"The fans have continuously supported this event like its theirs and it is theirs," said Fleming. "I promote it like its theirs, from the discounts, cheap tickets (the Thingz Hard special). I also have some great partners along the way that make Hit Makers a success, because without them, none of this could happen."
Hit Makers is set to blow up the Festival Village on the night of April 26.