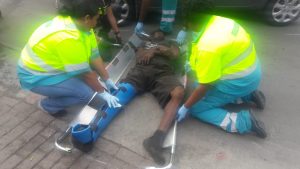 MIDDLE REGION, Sint Maarten–The Police Traffic department is presently investigating a traffic accident between a private vehicle with license plate M-1134 and a motorcycle without any license-plate which took place on Tuesday January 8th at approximately 2.15 p.m. on the Middle Region road in front of Win Li Supermarket.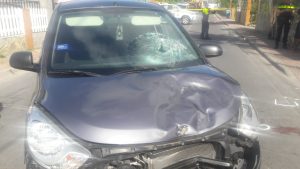 According to the police report the vehicle with the license plate M-1134 coming from the direction Defiance road was making a left turn while the motorcycle coming from the opposite direction did not give the motorcycle preference causing the vehicle to collide head. The impact threw both the motorcycle and the rider in the air. The motorcycle landed on top of the rider.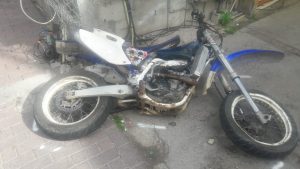 As a result of the accident the rider suffered a broken right leg and the motorcycle had quite some damage. The rider was treated on the scene by paramedics and then transported to the Sint Maarten Medical Center for further treatment. The driver of the M-1134 did not suffer any injuries however the vehicle had damage to the front and a shattered windshield.