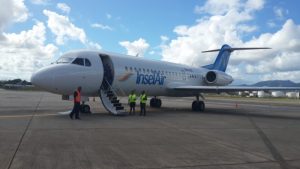 SIMPSON BAY, St. Maarten – The InselAir flight from St-Maarten to Curaçao returned to Juliana airport this afternoon after the pilots saw an indication that the engine was running hot.
They followed the procedure that is prescribed by the manufacturer and shut down the engine as a precaution and landed the aircraft safely.
All passengers on board are provided with a hotel, transportation and meals and will transported back to Curaçao on other flights as soon as possible.