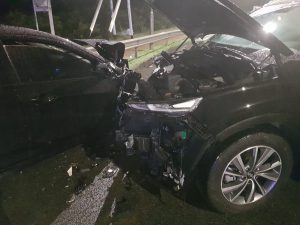 PHILIPSBURG, Sint Maarten – The Police traffic Department is presently investigating a head-on traffic collision which took place on Sunday January 6th at approximately 04:10 a.m. at the Eastern Cause Way round about (Union road) at the French border involving a Hyundai Accent with license plate P-6244 and a
Hyundai Santa Fe with license plate M-1238.
According to the report the driver of the Hyundai Accent ( M-6244) came from the bridge and made an illegal left turn towards Marigot (not going around the round about) and collided head-on with the M-1238 which at the time was coming from Marigot and heading into Cole Bay.
The impact caused considerable damage to both vehicles and both drivers suffered bruises to their body and complained of pain in several areas of their body. Both victims were treated on the scene by paramedics however the driver of the P-6244 was taken to the hospital on the French side fro further treatment.
The driver of the P-6244 was not in the possession of a drivers license and has also committed several other traffic violations. Both vehicles were towed from the location.