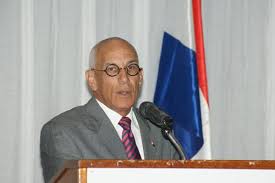 Pond Island, Philipsburg, St. Maarten – The process for the 2019 budget has already started, disclosed Minister responsible for Finance, the Honorable Michael Ferrier.
Speaking at the Council of Ministers media briefing Wednesday morning, the Finance Minister told journalists that they are hoping to present the first draft of the budget to Parliament by September 1st of this year.
"The budget planning is now being made and we want to try to be proactive and try to be on time and try to be in accordance with the applicable laws," Minister Ferrier said.
Whilst addressing that subject, Minister Ferrier also noted that the financial reports of the year 2013, 2014 and 2015 should be ready to be on the agenda of the Council of Ministers by the 26th of June, and that they will attempt to make that happen.
"If that happens, the financial statements of 2013 and 2014 will then ready to go to Parliament, and then the financial statement of 2015 will then be ready to go to the Council of Advice for processing," Minister Ferrier said, adding that they are also working on the financial statements of 2016.