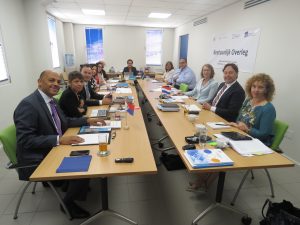 CURAÇAO – Representatives of the General Audit Chamber (ARSXM) attended the first Conference of General Audit Chambers of the Kingdom from June 5 – 8 in Curaçao. The host of the conference is the Court of Audit of Curaçao (Algemene Rekenkamer Curaçao – ARC) which also celebrated their 65-year anniversary.
Audit institutions from Aruba (Algemene Rekenkamer Aruba – ARA) and the Netherlands (Netherlands Court of Audit -ARNL) also participated.
Mr. Ronald Halman, chairman of the Audit Chamber of Sint Maarten and Ms. Joane Dovale-Meit, secretary-general, attended three days of meetings in which diverse topics of mutual interest to all participants were discussed. St. Maarten's representatives provided several presentations including the introductory topic on the role, task, authorities and independence of audit institutions.
ARSXM also contributed to the subject of communication with a presentation on social media, featuring the Facebook initiative launched in June 2017. The trend among audit institutions is to try and make information more accessible to the public. The Netherlands Court of Audit highlighted their initiatives for communicating with stakeholders. All participants provided presentations of recent audit reports. Audit methodology, integrity, legislation and alternative audit products were discussed in interactive sessions.
The representatives of the four audit institutions of the Kingdom, Mrs. Wedervoort (chair ARC), Mrs. Giskes (acting president ARNL), Mr. Nuboer (chair ARA), and Mr. Halman (ARSXM), addressed members of Parliament, ministers and high councils of state of Curaçao on Thursday evening during the reception celebration of the 65-year anniversary of the Court of Audit of Curaçao.
All audit chambers have expressed a willingness to continue these informative meetings in future.