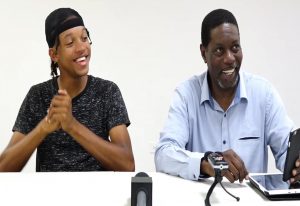 PHILIPSBURG, St. Maarten – During a press conference held on Wednesday at the John Larmonie Center the promoters of the first ever father and son comedy show dubbed "Its a family affair" slated for Sunday, June 3rd at 7.00 pm under the tent at Port de Plaisance, announced that the comedy show will be honored to the late Roland Cecil Bryson aka Pa Ben or Chimongo.
Pa Ben, who passed away on Saturday, May 19th was a long time friend of Fernando Clark, with whom he has performed many times.
"My very first drama performance which was in the play Dream on Monkey Mountain, directed by the late Ian Valz, included Pa Ben" Fernando recalls.
"So, because of our long relationship in the field of culture, I find it fitting and appropriate to do this show in honor of a cultural legend and icon. Don't be surprised if you hear Pa Ben's unique style of laughing during the show, or his famous words: Indeed" said Clark.
The two performers of the show, The philosopher of humor Fernando Clark and his son, the rising star Sherlon Clark-Ferdinand promise a non-stop-laughter performance as they both take on issues surrounding life, politics, social and family issues, and just about any other topic one can think of.
"This is my first 35 minutes solo performance in comedy and I will make it a great one" said Sherlon, who was the MC at his father's last performance "Fernando Clark in your Uhm!" on
March 24th
.
When asked if he's ready to walk in his father's footsteps, Sherlon responded: "I have some big shoes to fill, but I am confident that with my own style of comedy, I will live up to the expectations. We want to see the whole family in the house because it is a family affair."
Tickets for the " It's a family affair" comedy show are on sale at Van Dorp Book stores in Simpson Bay and on the A. Th. Illidge Road, Big D Foto Studio on the Pondfill Road, Artsen Gas Station in Hameau du Pont and SOS Radio in Marigot for $30
The first 25 persons to purchase their tickets receive a free "Fernando U2 BAAD" DVD.